Rooms
- Double Bedrooms
- Twin Bedrooms
- Family Bedrooms


Facilities
- All rooms with attached bathroom
- Hot shower in all rooms
- TV With ASTRO programs
( Wah Lai Toi, Disney, ESPN, Astro Ria, RTM1, RTM2, RTM3, NTV7, TV8, TV9 , Music channel & etc.)
- Central location right in the heart of Brinchang
- Weekend night market in immediate area
De Couleur Inn
Location: Brinchang, Cameron Highlands Rating:
De Couleur Inn
No12, Jalan Besar Brinchang, 39100 Brinchang , Cameron Highlands,
Pahang, Malaysia.

Tel / Fax: +605-4915125
H/P: 017-5891510 ( Md Shukri)


Email : decouleurinn@gmail.com
Website: www.decouleurinn.com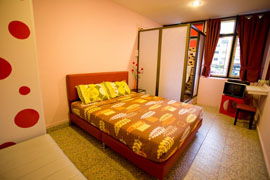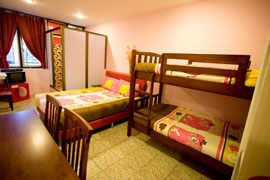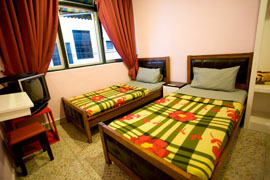 Welcome to De Couleur Inn Cameron Highlands, we are located at the center of Brinchang Town Cameron Highlands. We have only 8 rooms with a quite, clean, comfortable, and nice environment.

If you are prefer a long holiday at Cameron highlands, you can contact or e-mail to us to get the special price for weekly (7days) or monthly. Or if you would like to have a group gathering, birthday party, family gathering at Cameron Highlands, this is a good place for you to gather with your friends. But for the group gathering, advance reservation is required for us to reserve the rooms (at least 5 days before the check in date).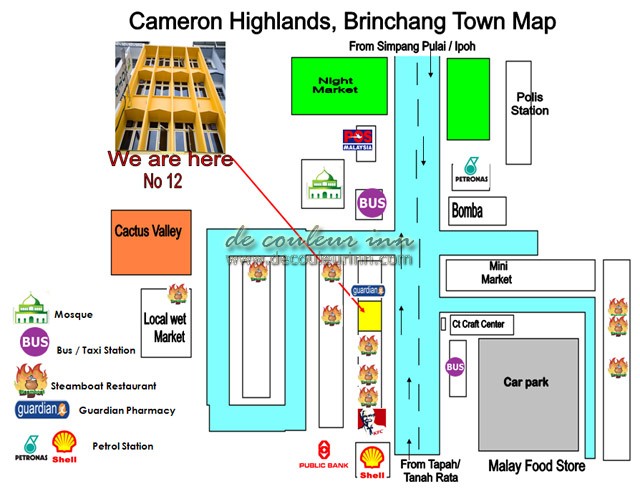 - Special price for weekly (7days) or monthly
- Rates Offered are Subjected to Season